Childhood, school and information computer technology: New evidence for educational policies in Peru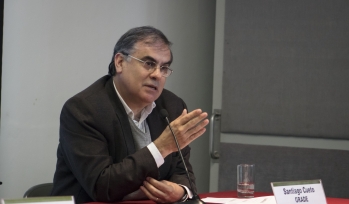 In a world of continuous technological development we modify the ways in which we communicate, consume information and acquire knowledge. This, in turn, poses several challenges for educational policies and child development in Peru. In order to study the challenges encountered by the education system in Peru on a daily basis, Young Lives and Fundación Telefónica del Perú organised a conference during Evidence Week (Semana de la Evidencia), a festival of events seeking to understand, promote and celebrate the use of evidence in public policies throughout Latin America.
The conference, Childhood, school and ICT: New evidence for educational policies in Peru, brought together public and private sector actors at GRADE on 18th October. Santiago Cueto, Director of Young Lives in Peru (Niños del Milenio) opened the event, highlighting the growing importance of computers and access to technology in today's world. Cueto also presented the publication 'Access, use and digital skills in four countries' (available in Spanish only), showcasing preliminary results on digital skills, access and use of information technologies by Young Lives children across our Older and Younger Cohorts.  
This focus was continued by Lucia Acurio, international consultant in Educational Innovation who spoke to 'The digital divide: closing milestones in Peruvian education' (Spanish only), discussing the proposals to close or limit this digital divide in both teachers and students. Particularly noteworthy are Acurio's comments that 'around 9% of teachers have never had access to a computer' and 'today, 67% of public schools do not have Internet connectivity'.
Following these presentations, there was an opportunity for shared learning across academic research and public management. Jorge Copello, ICT and Education advisor of Fundación Telefónica del Perú, led a panel discussion bringing together this thinking. He noted the great value of the data from our latest survey round:
'The Round 5 Young Lives research on digital skills takes us beyond of the classroom: it puts variables beyond teaching-learning, so creating a complex scenario with the purpose of enriching understanding and action. […] Young Lives shows us, once again, a comprehensive picture, which will call and allow for formulation of multi-sectoral policy'.
The event was closed with comments and questions from the audience, heavily focused on expectations about the goals and strategies that the new Ministry of Education leadership will recommend and a call for continued research into technology in education, particularly on adoption of different digital functions and devices for pedagogic purposes.
For updates on digital skills and education in Peru please follow @ninosdelmilenio on Twitter and use the hashtag #YLEducation for more findings across our study countries.