New book: Handbook Of Early Childhood Development Research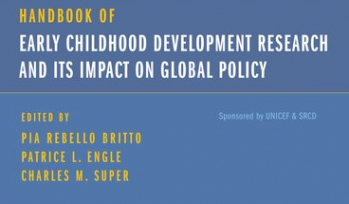 LONDON, 7 November 2013 ? UNICEF, in coordination with the University of Northampton (UK), today launched a ground-breaking new work, the Handbook Of Early Childhood Development Research And Its Impact On Global Policy.
The launch comes ahead of a meeting of the United Kingdom?s All Party Parliamentary Group for ?Conception to Age Two ? The First 1001 Days? at the House of Commons.
A cutting-edge work in the field of early childhood development (ECD), the Handbook is the first comprehensive collection of evidence on how to implement early childhood programmes and policies at large scale in low and middle income countries.
It pulls together international research on ECD, and presents evidence on how to address the developmental needs of young children globally, including the most vulnerable. It argues that goals for ECD must explicitly be included in the world?s agenda after the Millennium Development Goals? 2015 culmination.
"It is a tribute to the success of the MDGs that every group wants their issues in the post-2015 agenda," said handbook co-author Dr Pia Rebello Britto, global head of ECD for UNICEF. "However, the importance of early childhood development is unquestionable and we hope the handbook will help with its recognition as, quite simply, the indispensable foundation of the future.?
According to the Handbook, over 200 million children under five fail to achieve their full development potential, due to reasons as diverse as under-nutrition, poor health, environmental toxins, and lack of opportunities for learning. They end up with poorly developed cognitive skills, resulting in lower lifetime earnings, and eventually they will contribute less to their families, communities and societies.
Poverty is one of the major risk factors, with conflict and disease, affecting a child?s chances to survive and thrive. The Handbook identifies pathways from poverty, exclusion and inequities early in life, and suggests strategic action based on research and field experience.
The Handbook, co-authored by Dr Britto, the late Professor Patrice L. Engle of Cal Poly State University, California, and Professor Charles M. Super of the University of Connecticut, is sponsored by UNICEF and the Society for Research in Child Development (SRCD).
Dr Britto noted that the importance of early life for the development of human potential is now widely recognized beyond the ECD community. With the Handbook, policy makers and advocates can translate this conviction into concrete plans and goals to ensure that all children get the healthy start they deserve and that the world must have for a viable future.
She added: ?We in UNICEF are encouraged that the All Party Parliamentary Group and the University of Northampton are as passionate as we are about ensuring that ECD is included in the world?s priorities for 2015 and beyond."