#IWD 2016: 'pledging for parity' needs to start with childhood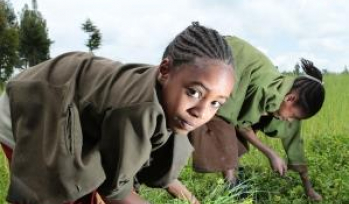 The theme of this year€'s International Women'™s Day campaign is '€˜pledging for parity'€™. The '€˜pledging'€™ part of the slogan draws attention to individual commitment and to action. '€˜Parity'€™, on the other hand, highlights the relationship between two or more things, and is generally defined as the state or condition of being equal or equivalent. In this context, the positive focus of parity suggests gender-balanced power. And, more often than not, parity refers to relations between men and women. After all, girls have their own day - 11" October -" marking International Day of the Girl Child.
But does childhood have a place in International Women'€™s Day? What does childhood have to do with gender parity?
I would argue that childhood has a lot to do with gender parity. The reasons why become clear when we look at the flip side of parity, and turn our attention to the workings of inequality.
Gender inequality starts early
Inequality is a major theme of Young Lives research and policy work. Its relevance for International Women's Day goes beyond drawing attention to gender-based disparities. Our findings point to intersecting inequalities, such that boys and girls are affected, at different ages and in different ways, shaped by dynamics within households, socio-cultural context, institutional structures and economic pressures. For example, in adolescence, gaps between girls'€™ and boys'€™ school enrolment increase, but the patterns vary by country, and in all cases these gender gaps are smaller in size than the gaps determined by poverty or by place of residence (rural or urban) as the figure on below shows.