Launch of Adolescence, Youth & Gender conference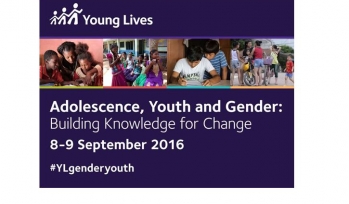 On 8 and 9 September, Young Lives will showcase findings from leading international academic, practitioners and campaigners working on adolescence, youth and gender in international development.
The conference, Adolescence, Youth and Gender: Building Knowledge for Change, which takes place at Lady Margaret Hall, University of Oxford, is intended to promote dialogue and critical reflection on the latest evidence, concepts and approaches to adolescence, youth and gender in global development and consider the implications for policy and programmes. 
Jo Boyden, Director of Young Lives says
We're delighted to be bringing together such a broad gathering of individuals and agencies from different disciplines to participate in learning and networking around this crucial global concern. We're keen to encourage new collaborations between academics, policy-makers, campaigners and programme-makers working on gender, youth and adolescence. It's a particularily exciting gathering for the Young Lives team. We've followed our survey children for almost fifteen years now - we've watched them grow from early childhood, and we know that for many their lives have improved since they were young. But our last round of data also highlights worrying trends for Young Lives adolescents and we're keen to share and discuss these findings at this conference.  
The conference coincides with the launch of a new Young Lives report which explores how children's lives change during adolescence and the difference that gender inequalities and gender norms make to their pathways.
The report highlights a number of key Young Lives findings:
Gender differences and inequalities in aspirations and learning outcomes become increasingly evident from early adolescence. However, gender inequalities do not always favour boys, and the impact of gender has to be understood in conjunction with the effects of poverty and other forms of socio-economic inequality.
Adolescents experience violence and bullying in several different environments, with girls and boys experiencing very different patterns of violence.
Girls are much more likely  than boys to marry and have children before the age of 19, and marriage and parenthood has a large effect on their educational opportunities, caring responsibilities and mobility.
Gender inequalities in parents' aspirations for their children's education were first evident when children were as young as age 8. These disparities were reflected in girls' and boys' aspirations for themselves at the age of 12 and in their learning outcomes and achievement by the age of 15.
After puberty, social norms and expected behaviours play a greater role in young people's lives: for example, girls' movement may be restricted, or boys are expected to contribute significantly to family income.
Young Lives policy officer Frances Winter says
Young Lives findings indicate two windows of opportunity for policy intervention: firstly, middle childhood to early adolescence (which often coincides with puberty and the transition from primary to secondary school) and secondly, the period when girls come under pressure to marry . However, these 'windows' should be treated with caution. The underlying drivers of change for disadvantaged adolescents are effective education, job and economic opportunities to look forward to, robust social protection arrangements which improve the chances of their hopes being realised, and protection from violence.
The plenary and panel sessions will be live-streamed on both conference days starting at 9.30am (BST) on our YouTube channel. 
More information on the Young Lives conference incuding keynote speakers and plenary sessions can be found here.
Our most recent publications on adolescence, youth and gender can be found on our theme page for this research stream.