A New Digital Story Every Day This Week - Young Marriage and Parenthood in Ethiopia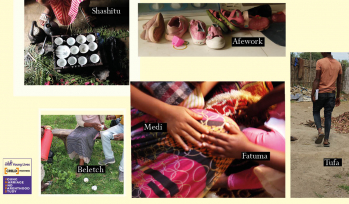 As part of our Young Marriage and Parenthood Study, and in the lead up to the International Day of the Girl Child (October 11th) we are releasing one of five Ethiopian digital films every day this week. Each film hears from a Young Lives' child - now aged around 25 years old - about their experience of young marriage, relationships and caregiving, while living in poverty.
Every year millions marry and become parents young yet we rarely hear their voices. These digital films bring together interviews and photos chosen by the young people to illustrate their every day lives and the challenges they face.  All images and voices have been anonymised.
In our fifth and final film we hear from Medi and Fatuma, two young mothers living in Addis Ababa. In their late teenage years they met and married their husbands, and now both look after their children and do work within the home, but are unable to return to education or find formal work. They both are proud to support their children in their education and find motherhood tough but rewarding.
Medi and Fatuma - Young Mothers
"Motherhood is tough. It is when you see the toughness that you realize the price paid by your mother."
Our fourth film follows Shashitu's story, she dropped out of school when she was young due to poverty and now earns money by selling soft drinks. She has chosen not to marry, but hopes to in the future. In this film she shares images she has chosen of her daily life and discusses her experiences of a past relationship and her hopes for the future.
Shashitu
"I did not want to get married because I need many things to establish a family."
Our third film follows Afework's story, he left college to be able to care for his niece when his sister migrated to the Middle East. In this film he shares images he has chosen about his daily life and discusses what he has learned from a previous relationship and from being his niece's caregiver.
Afework
"I was attending college until my sister gave me responsibility for caring for my niece, which was very difficult."
Our second film follows Tufa's story, he left school when he was young due to poverty and now poverty is affecting his choice to marry. In this film he shares images he has chosen and discusses the challenges he faces if he wishes to marry, as well as his plans for the future.
Tufa
"I have not married since my family are poor."
In our first film, Beletch and her husband Mamuye discuss and share images of their daily life and experiences as a young married couple. Beletch believes she left school at 17 to get married; she's uncertain of her age.
Beletch
'I was not able to go to school after I married. How is that possible once you are married?'
Throughout the week we've shared a new digital film each day - in the lead up to the International Day of the Girl Child. The Young Marriage and Parenthood Study (YMAPS) is a collaboration between Young Lives and Child Frontiers. You can find all the research published as part of YMAPS here.