Progressive conference will explore Young Lives, child poverty and lessons for the SDGs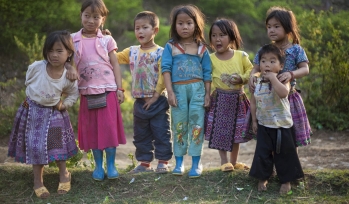 During the first two decades of the 21st century, Young Lives has followed the lives of children living in poverty in Ethiopia, India (in the states of Andhra Pradesh and Telangana), Peru and Vietnam. Positive developments have taken place, but much work remains to be done to secure sustainable futures for every child.
In light of this, we ask that you engage with our research and help answer the following:
How can the research, policy and advocacy worlds come together to help break cycles of poverty and inequality and improve lives across generations?
Join the Young Lives team, along with leading figures from government and civil society, for a one day conference, 'Young Lives, child poverty and lessons for the SDGs', to help share and progress the key findings and policy implications drawn from 15 years of longitudinal research.
The conference, which takes place at the British Academy, London, on Wednesday 27 June from 9.00am-6.00pm, will combine keynote talks, panel discussions and interactive 'World Café' sessions to effectively share and engage with Young Lives research into child poverty, education, health, nutrition, gender and child work.
Speakers talking to the child poverty agenda will include: Minister of State for International Development, Harriet Baldwin MP; AK Shiva Kumar, Co-Chair, Know Violence in Childhood; Louise Richardson, Vice-Chancellor, University of Oxford; and Stefan Dercon, Professor of Economic Policy, Blavatnik School of Government.
In addition, each panel event will comprise industry leaders from organisations such as UNICEF, Plan International UK, Save the Children and DfID, who will explore each theme with our Young Lives researchers and policymakers. A 'World Café' style interactive element has also been incorporated to facilitate collaborative dialogue and contribute constructive possibilities for action on addressing childhood poverty. Discussion groups, led by those presenting research on each topic, will in turn tackle the following themes: education, nutrition, gender and adolescence, labour market, child protection; and social protection.
The day's proceedings will conclude with an evening drinks reception to celebrate the 15 years of ground-breaking research carried out by Young Lives to date, providing the perfect opportunity to explore our photo exhibition, engage with our data visualisations, or find out what plans Young Lives has for future research.
Please find the full agenda here and follow the event, including live streaming and videos, via #YLPovertyLessons