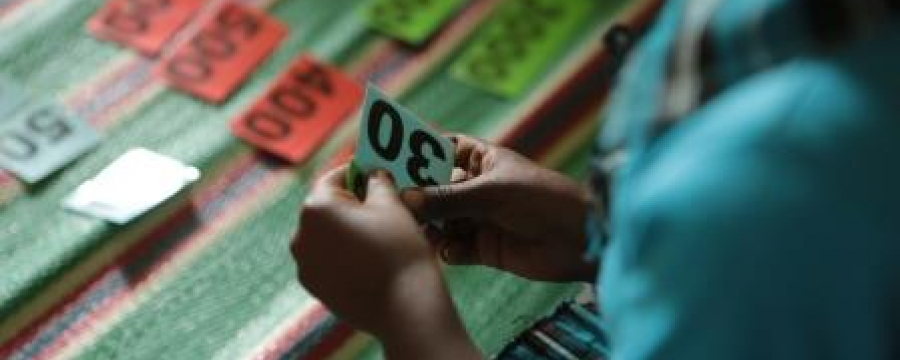 Young Lives is designed as a panel study that is following the lives of the 12,000 children over 15 years. The sample in each country consists of two cohorts of children: a Younger Cohort who were aged between 6 and 18 months when Round 1 of the survey was carried out in 2002, and an Older Cohort of 1,000 children then aged between 7.5 and 8.5 years.
Sample design
The children were selected from 20 sentinel sites that we defined specifically in each country. The concept of a sentinel site comes from health surveillance studies and is a form of purposive sampling where the site, or 'cluster', is deemed to represent a certain type of population, and is expected to show typical trends affecting those particular people or areas.
Principles and methods of the Young Lives sampling approach
It was decided that a range of children should be sampled, not only the poorest children, although poor families were over-sampled.
The children were sampled in geographic clusters, which were selected through a semi-purposive approach.
Within each cluster, children were randomly selected.
In each country 2,000 children aged between 6 and 18 months were selected to be followed as they grew up over 15 years. This was considered an appropriate number given the duration and scope of the study. It was also considered to be sufficiently large for statistical analysis in general, allowing for the detection of moderate-sized differences between sub-groups of children.
A similar sample of 1,000 children per country aged between 7.5 and 8.5 years were selected as an Older Cohort for comparison.
The qualitative sub-sample
In-depth qualitative research is carried out with a sub-sample of 200 children, across all four countries, providing a set of 'nested case studies' within the larger sample. This enables detailed exploration of changes and continuity in children's life trajectories, and of the commonalities and differences in their experiences. The first stage of selecting the qualitative sub-sample was the choice of field sites in each country sites from different regions, reflecting the main ethnic or caste groups in the country, to reflect an equal balance between rural and urban sites and to reflect a balance between poorer or less-poor communities.
In India, Peru and Vietnam this resulted in the selection of four sites, but in Ethiopia five were needed to reflect the ethnic diversity of the country and the full sample. In each site, equal numbers of boys and girls were selected from the Younger and Older Cohorts. As well as gender and age, the sub-sample children were chosen according to the socioeconomic status and structure of their households, and their attendance at pre-school.
Tracking and attrition
Sample attrition occurs when children who were interviewed in the first round of a survey are either not found or refuse to take part in later rounds. Young Lives, like all longitudinal surveys, is concerned to minimise attrition bias since if were to lose touch with some types of children more than others (such as children from poorer families or from particular ethnic groups), this could bias results. We take care to ensure that we can track as many children as possible between the survey rounds to minimise the risk of drop-out.
The attrition rate is low compared to other longitudinal studies. The main reasons for attrition are migration (internal or abroad), household moves, marriage (of some Older Cohort whose in-laws may not wish them to participate), and the feeling that the study has not brought any tangible benefits from government. Working with the same field supervisors since Round 1 has enabled us to build stable relationships with the families which has also helped to minimise attrition.
Attrition between Round 1 and Round 5
|   | Younger Cohort | Older Cohort | Overall |
| --- | --- | --- | --- |
| Ethiopia | 4.5% | 14.7% | 8.0% |
| India | 3.0% | 6.4% | 4.1% |
| Peru | 8.2% | 14.1% | 9.8% |
| Vietnam | 2.3% | 8.5% | 4.4% |
| Total | 4.5% | 10.7% | 6.5% |


More detailed information about the sample design, study sites, tracking and attrition, and characteristics of the sample is given in the Round 5 Survey Design and Sampling fact sheets for each country: