Service expansion in a rural, ethnic minority community in Vietnam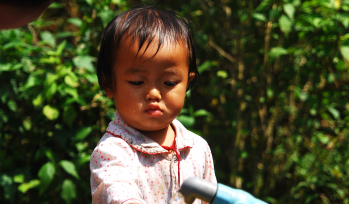 Where children live and how their communities are changing over time are important factors in shaping their development and experiences.
In Vietnam, significant progress has been made in poverty reduction, with only one in ten people now living below the poverty line. However, the poverty rate among Vietnam'€™s ethnic minorities is as high as 50 per cent. Rapid changes in people'€™s living environment, such as the expansion of basic services, roads and communications, bring new opportunities but also risks reinforcing the social exclusion of poor and marginalised children.
 Van Lam* is a commune in a central coastal province of Vietnam. It has six hamlets consisting of just over 6,000 people, with the ethnic minorities (most of whom are Cham H'roi) accounting for 37 per cent of the population.
Van Lam is very poor and half of its Cham H'roi households were classified as poor or nearly poor in 2011. As such, this commune has been covered by various government schemes, in particular the Programme for the Socio-Economic Development of Extremely Difficult Communes in Ethnic, Mountainous, Boundary and Remote Areas (known as Programme 135), which focuses on the development of infrastructure (roads, community centres, schools, etc.) and scholarships. As a result, the commune has greatly changed and so have children'€™s daily lives.
Roads have been built to connect the hamlets with the commune'€™s administrative centre and facilitate local transportation for older schoolchildren. At the same time the Cham H'roi Grade 1-€"3 children do not have to travel far to school because a satellite school has been built in their hamlet. Schooling is offered free, health insurance is free, and children from poor households receive money and support with textbooks. This has significantly improved children'€™s school attendance and reduced the numbers of children leaving school prematurely.
Among the numerous changes that have happened recently, community members have highlighted the installation of electricity, replacement of traditional thatched houses with houses that are more sturdily built, and the construction of a sugar-processing plant. Electricity has helped €˜lighten up€™ the villages and reduce the hardship of their farming life ('€œreturning home from work, I just need to press the button, water will be immediately available'€) and diversify their cultural life (they now have karaoke to sing and TVs to watch). About half of the Cham H'roi households have new houses where they are safe from storms and the building of the sugar plant in the local area has made their lives more economically stable. According to local people, the recent government policies have improved their lives, and especially those of their children: '€œOur children'™s lives now are many times better than our lives in the past.'€
Yet caregivers are also concerned that some of the changes may have a negative impact on their children.
Many parents worry that mobile phones and the internet may put children at risk from cyber-bullying or distract them from studying. Changing livelihood patterns related to the building of the sugar plant may raise the opportunity costs of staying in school as during the sugarcane-cropping season children can go to work to earn money to support their families. Ethnic minority children tend to start school late and to drop out early, and this is especially true of children from poor families and of girls. Only a few children in the hamlet have finished high school or have technical or college training, hardly any of them find jobs and almost all end up working on their families'€™ fields or doing hired work with low pay. Others have been discouraged by these examples and believe that school cannot save them from being poor.
Most recently, people in Van Lam have become worried about a government plan to build a dam in their commune, which will cause some families to lose their farming lands. The farmers do not know what to do to make their living as they believe the compensation will be low, not even enough for food for themselves and their children. '€œWhat can farmers do without cultivating land?'€ is the question they keep asking each other and themselves.  
*Note: we use pseudonyms for all the communities and children taking part in our research.
References
This is one of six community case studies included in a new Young Lives paper Changing Children's Lives, which explores how where children live and how their communities are changing are important factors in the opportunities open to children and the risks they face.
See also:
Le Thuc Duc and Tran Ngo Minh Tam (2013) Why Children in Vietnam Drop out of School and What They Do After That, Working Paper 102, Oxford, Young Lives.
Vu Thi Thanh Huong (2011) 'Understanding Resilience, Risk, and Protection in the Light of School Attendance and Dropout: a Comparative Cross-case Analysis of Qualitative Data in Vietnam', Vietnam Journal of Family and Gender Studies 6.2.