You may also be interested in
Research and policy impact experiences
Paul Dornan shares research and policy impact experiences from Young Lives.

Capturing a Picture of Change
This booklet gives an overview of how Young Lives uses research to engage with national and inter

Young Lives Theory of Change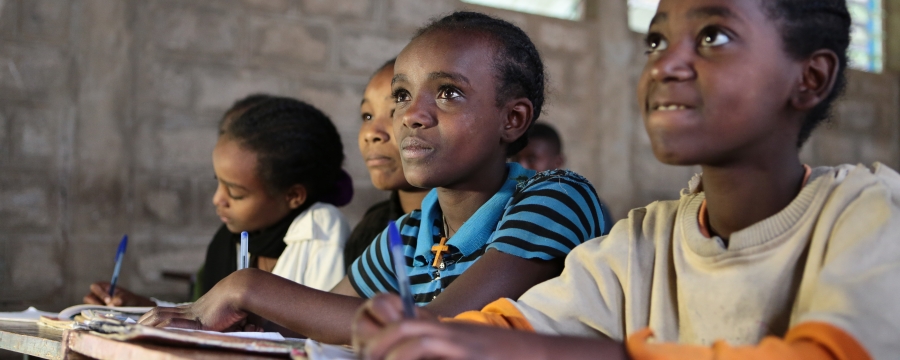 Research evidence informs policy thinking and processes in a number of ways. It generates new knowledge, but can also confirm what we know (ensuring that decisions are based on solid evidence) and challenge long-held assumptions about children's lives. Researchers have an important role in working with policymakers to make the case for evidence-informed policymaking and in building the case for gathering better data. They also have a role to play in improving the knowledge and understanding of policymakers and organisations delivering programmes.
Young Lives focuses on fostering trust, building relationships, and developing policy-relevant questions to frame our analysis. We have invested long-term in working with networks and alliances in our study countries and internationally, sharing our data and findings with other researchers and policy organisations, and using a wide range of channels to keep child poverty firmly on the policy agenda.
The following impact case studies capture our impact across policy and research arenas from the most recent, right back to the inception of the study:
Building individual, institutional and national capacity for child-focused research
Child poverty, no one left behind, and the Global Goals
Creating a world class resource of multi-country longitudinal data
Early Child Development: informing policy and making it a priority
How poverty and gender combine to affect youth and adolescence
Influencing policy on child marriage in India and Ethiopia
Influencing the design and methodology of other studies
Nutrition, growth and potential for recovery
Providing evidence on violence affecting children
School effectiveness and its impact on poor children 
The above build on the case studies collected in 2017 which illustrated impact at that moment in time. Review them here:
Building capacity for child-focused research
Child poverty, 'no one left behind', and the Global Goals
Influencing policy on child marriage in India and Ethiopia
Providing evidence on violence affecting children
Informing early childhood development policy in Ethiopia
Influencing the design and methodology of new studies
Nutrition, growth and potential for recovery
How poverty and gender combine to affect adolescence
School effectiveness and equity for poor children
Creating a unique world class resource of multi-country longitudinal data