Conference Overview: Inequalities in Children's Outcomes in Developing Countries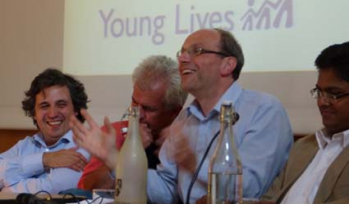 9 July 2013: This week researchers from around the world gathered in Oxford for a conference to analyse inequalities among children in developing countries. The papers discussed the extent of inequalities in key indicators of children?s well-being, especially how inequalities change as children grow up and the factors that mitigate or reinforce these early inequalities.
Researchers from Oxford?s Young Lives study of childhood poverty were joined at the conference, held at St Anne's College, Oxford on 8 and 9 July, by colleagues using other longitudinal datasets ? the Gansu Study of Children in China, CEBU in the Philippines, the Indonesia Family Life Survey, the Footprints in Time study from Australia, and LEAPS in Pakistan.

?The conference was the first to bring together researchers using longitudinal data to analyse how poverty affects children?s lives over time as they grow up, how different dimensions such as gender and socio-economic status interact, and what this means for children?s life trajectories,? said Sofya Krutikova from the conference organising committee.
Plenary speakers included: Orazio Attanasio (University College, London); Jere Behrman (University of Pennsylvania);Â  Pedro Carneiro (University College, London); Stefan Dercon (DFID / University of Oxford); Paul Glewwe (University of Minnesota); Costas Meghir (Yale University); Karthik Muralidharan (University of California, San Diego) and Lant Pritchett (Harvard University).
The two-day conference ended with a panel discussion titled 'How best to spend money on children?' with all plenary speakers and Richard Morgan (Senior Advisor, Post-2015 Agenda, UNICEF), chaired by Stefan Dercon (Chief Economist, DFID).
Video recordings of all plenary presentations are available to view online, along with the powerpoint presentations. Audio recordings will be added soon.
And throughout the conference guest bloggers Matt Collin and Lee Crawfurd were sharing their responses to the presentations and discussions. Find out more about them. Conference hashtag: #younglives
Conference organising committee:
Jo Boyden (Young Lives, University of Oxford)
Stefan Dercon (DFID / University of Oxford)
Paul Glewwe (University of Minnesota)
Sofya Krutikova (Young Lives, University of Oxford)
 
Read reflections from Sofya Krutikova on the conference.