Beyond the Girl Summit: creating a legacy of health, education and empowerment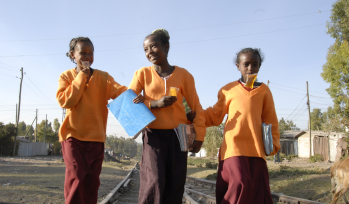 As someone who spends most of my time involved in the nitty-gritty of research, from fieldwork through data analysis to publishing papers and producing policy briefs for consultation with government and other stakeholders, coming to London to attend the Girl Summit was an extraordinary experience. The energy and excitement was palpable and the general enthusiasm especially from vocal young women was infectious.
Brave girls at the forefront
The Girl Summit on 22 July was an inspiring event held in a south London school with girls at the forefront. Four brave young campaigning women made moving speeches: Farwa who got her aunt to persuade her parents in Bangladesh to stop her early marriage, Alimatu who spoke out about coming to terms with the FGM she underwent in Sierra Leone, Malala who took on the Taliban in Pakistan and was standing up for the girls abducted by Boko Haram in Nigeria, and 16 year old Hanah, UNICEF ambassador for Ethiopia, whose plea at the end of the summit for everyone to get involved got a standing ovation.
Galvanising support
The Summit was important for obtaining commitments for action from more than 20 countries, including by ten African ministers and the Ethiopian Deputy Prime Minister, and from major national and international donors. The Charter was signed by leading organisations (including Young Lives Ethiopia) and, though the event was mainly preaching to the converted, it reached out worldwide through social media.
Mindful of twin sensitive issues
Tackling culturally sensitive issues head on is complex and sensible suggestions were made, notably by women from countries where the practices are common, about the need to avoid blaming or ostracising the victims and the risk of sparking a backlash, and about avoiding fuelling Islamophobia and muddying the waters with references to terrorism, both mentioned by British women from immigrant communities.
Tougher measures giving teeth to laws
The British government unveiled plans for tougher sanctions and prosecution of people involved in the practices, making parents in the UK liable if they marry off or circumcise their daughters, and imposing legal sanctions against health professionals who fail to report FGM. However, some concerns have been expressed, for instance by the Royal College of General Practitioners, that this may discourage women who have been circumcised from seeing a doctor (The Guardian, 26 July 2014).
'The numbers don't lie'
At a pre-summit meeting organised by DFID about research on these issues, one participant echoed the general sentiment that the statistics were compelling and 'the numbers don't lie'. Yet others pointed out that we do not have reliable figures. Perhaps more worrying is that establishing the facts about such sensitive topics may be difficult if not impossible when people are worried about acknowledging involvement in illegal practices, and where 'checking' about FGM would raise ethical issues. The alarming projections unveiled by UNICEF at the Summit may be based on shaky foundations and also do not factor in the likelihood that the practices are likely to decline dramatically, even without all the recent media attention, government commitments and funding.
Unintended adverse consequences: field evidence
Evidence from Young Lives in Ethiopia suggests that the imposition and strict enforcement of legislation banning child marriage and FGM/C may lead to the practices going underground or being circumvented by those who are not convinced that they are harmful. Unless parents and girls believe that FGM is harmful and are protected from adverse risks, they may hold the ceremonies at night or in the bush to avoid prosecution, or may circumcise girls earlier than is customary or pretend the ceremony is for a male circumcision to avoid detection. Likewise, they may pretend girls are older to marry them before the legal age of 18, particularly since birth registration is only just starting to be implemented in Ethiopia. We came across cases of girls arguing that it was their right to decide to be married and/or circumcised, and who had organised their own ceremonies despite parents' and teachers' opposition. Moreover, imposing a legal age of marriage of 18 (when it is 16 in the UK) may put adolescent girls who are sexually active at risk.
Older adolescent girls at risk
The recent expansion of education, particularly for girls, has brought new risks with it. The current shortage of secondary schools means more girls have to travel further from their communities for school, and some parents fear that their daughters may be abducted and raped. With restricted access to contraceptives for teenagers, consensual sex before marriage may expose them to risks from STDs, notably HIV/AIDS. Parents fear that their daughters may become pregnant and have unsafe abortions, or that they risk being rejected by their boyfriend and bring shame on the family if they decide to have a child before marriage. Girls themselves also worry that they are at risk of abduction or rape, and that they cannot access contraception or safe abortion. They fear rejection and ostracism if they have a child outside marriage, as well as face the daunting challenge of bringing up a child singlehandedly, often having to migrate away from their communities to seek work while caring for an infant without support (usually without any childcare facilities).
Linking to poverty reduction and women's empowerment
The focus of the Girl Summit 2014 on child marriage and FGM has galvanised political will and public attention around these issues in a way that was unimaginable a decade ago. Maria Eitel, the CEO of the Nike Foundation recalled what a 'hard sell' focusing on adolescent girls had been in starting up what became the Girl Hub. The energies generated by the Summit should enable better social protection systems to be established for girls at risk and already affected, and hopefully also for those likely to suffer from the unintended adverse consequences of legislation. If this first Girl Summit becomes a springboard to broaden the agenda to adolescent reproductive health and improving girls' access to affordable, quality and relevant education and pathways to training and employment, so much the better. If this spotlight on adolescent girls is just a beginning and leads to more attention on the fundamental underlying issues of intergenerational transmission of poverty, young women's empowerment and the broader international poverty reduction agenda, it will have a lasting legacy. Otherwise, these inspiring energies and commitments may fizzle out as other concerns take the limelight or the massive investments committed may be tackling issues that are in any case on the wane and are symptoms of much more deep-rooted gender and poverty issues.  
View the video produced by the Ethiopian Embassy in London with footage from the Summit and in-depth interviews with HE Demeke Mekonnen (Deputy Prime Minister of Ethiopia) and HE Zenebu Tadesse (Minister of Women, Children and Youth Affairs) (YouTube video 20 mins in Amharic)