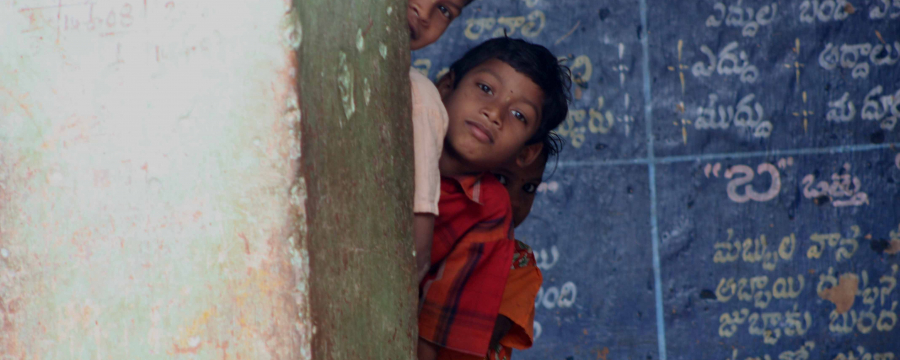 School surveys were introduced into Young Lives in 2010 in order to capture detailed information about children's experiences of schooling, and to improve our understanding of:
the relationships between learning outcomes, and children's home backgrounds, gender, work, schools, teachers and class and school peer-groups.
school effectiveness, by analysing factors explaining the development of cognitive and non-cognitive skills in school, including value-added analysis of schooling and comparative analysis of school-systems.
equity issues (including gender) in relation to learning outcomes and the evolution of inequalities within education 
The survey allows us to link longitudinal information on household and child characteristics from the household survey with data on the schools attended by the Young Lives children and children's achievements inside and outside the school. It provides policy-relevant information on the relationship between child development (and its determinants) and children's experience of school, including access, quality and progression. This combination of household, child and school-level data over time constitutes the comparative advantage of Young Lives. Findings are all available on our Education theme pages and our publications page.
Survey design and sampling
To ensure comparability across the four study countries,the first round of school surveys conducted between 2011 and 2013 were based on a common analytical framework. Each country study used a combination of up to eight different instruments. The number of children and schools sampled varied across the four study countries, due to differences in school systems and in order to achieve a balance between including as many children and as much school diversity as possible, and logistical and resource limitations.
A further round of school surveys took place during the 2016-17 school year. The key focus areas for these were:
Benchmarking levels of student attainment and progress in key learning domains;
Effects of school and teacher quality, and school effectiveness;
Educational transitions at age 15.
The 2016-17 school surveys focused on the level of schooling accessed by 15-year-olds in each country, so including Grade 7 and 8 students in Ethiopia (upper primary level), Grade 9 students in India (lower secondary level), and Grade 10 students in Vietnam (upper secondary level). Read more about the design of these (Ethiopia, India, Vietnam) and find our country reports detailing key findings here: Ethiopia, India, Vietnam.
School survey data
The data are hierarchically structured, at the pupil, teacher, class, school site, and head-teacher level. Data from the Ethiopia, India, Peru and Vietnam school surveys are all available via the UK Data Service with the following study numbers:
Young Lives: School Survey, Ethiopia, 2012-13 (SN 7823)
Young Lives: School Survey, India, 2010-11 (SN 7478)
Young Lives: School Survey, Peru, 2011 (SN 7479)
Young Lives: School Survey, Vietnam, 2011-12 (SN 7663).