How we're supporting researchers using all rounds of Young Lives datasets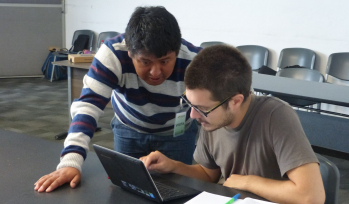 Want to know about the Young Lives panel dataset of constructed variables? The dataset has been compiled to facilitate analysis of the household and child survey data across the four rounds of data collected to date.
Here at Young Lives, we've just released "constructed files" of all four of our rounds of data which features about 200 variables selected from our household and child surveys. They are available to download from the UK Data Service.
The constructed files are combined sub-sets of variables from Rounds 1 to 4 of the Young Lives household and child surveys conducted in 2002, 2006, 2009, and 2013. They provide access to variables mostly available in all 4 rounds and focus on:
Child health and nutrition (includes data on height, weight, illness, etc.),
Child education (includes data on school enrolment, test scores, etc.),
Child time allocation (includes data on child's hours spent on paid and unpaid labour, schooling, leisure, etc.),
Child subjective well-being.
Also included in the data set are:
Household standard of living (includes data on household measures of wealth such as housing quality, access to services, food and non-food expenditures, etc.),
Household access to public programmes such as the Productive Safety Net Programme in Ethiopia and the National Rural Employment Guarantee Scheme in India,
A list of economic, environmental, social, and health-related events/shocks that may have affected the household (we have more than 50 items across all rounds).
We also computed indicators of child health and household wealth using the existing data. Using the World Health Organisation (WHO) reference tables, z-scores were estimated from the children's health information which were then used to compute for child malnutrition indicators (stunting, thinness, etc.). A household wealth index was also calculated by combining three living standard indicators: housing quality, access to services, and consumer durables.  The indices were estimated consistently and are comparable across rounds.
To supplement analyses, also available are characteristics (age, gender, and education) of specific household members (household head, the child's biological father and mother, and the child's caregiver).
Since variables are merged into a single dataset, the constructed files are useful in tracking child outcomes in 4 periods throughout their childhood years (from age 1 to 12 years for the younger cohort and from 8 to 19 years for the older cohort) without difficulty. For example, the graph below shows the percentage of children who moved to a different community between rounds 1 and 4.
Young Lives follows children from two age groups and the constructed files can also be straightforwardly used to compare children of specific ages at different time periods. For example, 12-year old children (older cohort, round 2) in 2006 can be evaluated with 12-year olds (younger cohort, round 4) in 2013.
In cases where researchers feel the need to add more variables for their analysis, the constructed files can be merged with other Young Lives datasets by using the unique child ID. The complete rounds 1 to 4 survey data of Young Lives is also available to download from the UK Data Service. 
The constructed files also come with a technical note which provides a detailed description of the variables. So download our data and run your analyses. Be sure to share your findings with us on Twitter @yloxford and Facebook.