Girls' diverging pathways to marriage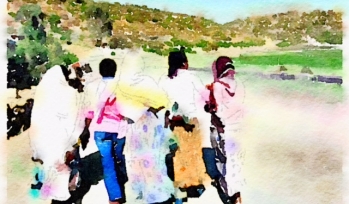 Five girls (pictured above), are all born in the same year, growing up in the same small village in northern Ethiopia. By the end of their second decade of life, two are married and mothers, two have failed the national Grade 10 exam so are looking for work and one has left her job working as a maid in the Middle East and returned to Ethiopia.
How do we explain the diverging trajectories of young people who, like these girls, experienced most of their childhood during the period of the Millennium Development Goals (MDGs), and for whom poverty was a constant, though dynamic, feature of everyday life growing up? How similar or different are their experiences when compared to their parents' and grandparents'?
Continue reading this story on The University of Oxford's Medium page where it first appeared on 9 September 2016 and watch our research film Adolescent trajectories and early marriage in Ethiopia.