Deserved attention on global burden of violence in childhood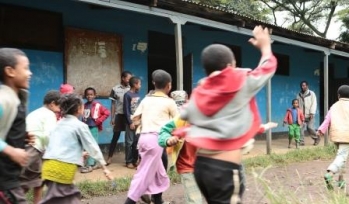 Over the course of 15 years, Young Lives has sought to capture and follow the lived experiences, challenges and hopes of children across four countries (Ethiopia, India, Peru and Vietnam).
Violence emerged as a key theme in children's lives early in our study. Young Lives welcomes the global focus on violence affecting children and the new report Ending Violence in Childhood, the flagship publication of the Know Violence in Childhood initiative.
The report is one of the most comprehensive analyses of childhood violence ever undertaken, an almost three year long effort documenting the scale of violence experienced by many of the world's children. The report finds that nearly 3 out of 4 children worldwide experience violence (1.7 billion children) each year, but proven strategies exist which can keep children safe.
In 'Children's Experiences of Violence: Evidence from Ethiopia, India, Peru and Vietnam', a background paper commissioned for the report and published today, Kirrily Pells and Ginny Morrow explore what violence means for children who took part in the Young Lives study.
They find that:
Violence in the lives of many children is pervasive, often routinized and normalized
Children experience multiple forms of violence across different settings
The types of violence experienced vary by age and gender, and gender norms may preclude children from seeking support when they become affected by violence
Poverty is a driver of violence affecting children.
Reflecting on these findings, Young Lives Research Associate Dr Kirrily Pells said:
"Violence affecting children is often hidden, ignored or seen as intractable. Simplistic explanations are often put forward which ignore structural inequalities of resources and of power which underpin such violence. The Know Violence report tackles both of these seminal problems and offers a critical opportunity to galvanize collective efforts and to inform more comprehensive and effective strategies for violence prevention."
The background paper is is freely available and you can find a screencast from Kirrily based on this following:
Much of Young Lives research into violence affecting children to date has been undertaken in collaboration with UNICEF's Office of Research. Detailed findings are available on the website of the multi-country study, 'Drivers of Violence Affecting Children' as well as on the Young Lives website. Young Lives is also engaged in on-going research on violence affecting children in Ethiopia, funded by the Oak Foundation.