Niños del Milenio is awarded Premio PODER in the most important ceremony for think tanks in Peru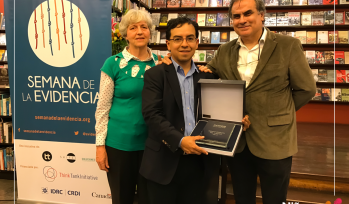 In recognition of its 18-year long contribution to evidence-based decisions to combat childhood poverty
On the 25th of October, Niños del Milenio has been awarded by Premio PODER the Jury's Special Prize. As quoted by the presenter, "This is a well-deserved recognition of the study's influence on shedding light on the drivers and impacts of childhood poverty, as well as, generating evidence to help policymakers design programmes that make a real difference to poor children and their families"
This award recognised the jointly meaningful work conducted by GRADE (Group for the Analysis of Development) and the IIN (Nutritional Research Institute). In this regard, the prize was presented to Santiago Cueto, Country Director; and the Principal Investigators, Alan Sanchez and Mary Penny. Although Vanessa Rojas, Qualitative Research Coordinator, was unable to attend the award, it is pivotal to highlight her contribution along these 18 years of research.
Premio PODER takes part as one of the main events during the Semana de la Evidencia (Evidence Week), a festival that seeks to understand, promote and celebrate the use of evidence in public policies throughout Latin America. By this means, in 2013 the Premio PODER was launched inspired by a similar award from the prospect Magazine of Great Britain, and seeks to recognize the good work of research and communication carried out by Peruvian Think Tanks. That is, from applied research centres that seeks to inform public and private policy inspired by arguments based on robust and innovative research.
Particularly, the Jury's Special Prize is a distinction awarded by the jury for the performance of a research team that has made a difference during the year. For us, as Niños del Milenio, for the difference made during the last 18 driving evidence-based decisions.