Video series: Professor Aryeh Stein discusses his longitudinal research in Guatemala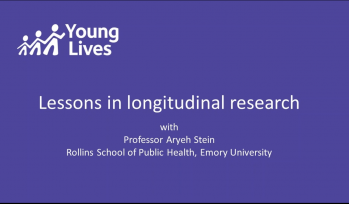 As part of our Methodological learning series on longitudinal research, Young Lives recorded a series of videos with Professor Aryeh Stein, who has been involved in a long-running nutrition study in Guatemala, that began in the 1960s. In this video series Professor Stein introduces the Institute of Nutrition of Central America and Panama's nutrition trial study - INCAP, the now 50-year long study, was set up to uncover whether improving childhood nutrition in infants, and in-utero, would improve adult life outcomes.
Professor Aryeh Stein also discussed a series of topics that can affect longitudinal studies, and his experience in connection to INCAP, which he has been involved in since 1998. In conjunction with the Methodological learning project and support from the GCRF, Professor Stein will be in Oxford in the spring to share his experience in a masterclass on data harmonization.
You can watch the first of the series below video below, you can find the full playlist here.